Artists
Program
Preview
Performances
Bios
ConnectFive pushes the envelope on the perception of wind quintet music by commissioning and performing new works by a diverse range of composers. With foundations in community engagement, arts education, and advocacy, ConnectFive strives to bring the joy and excitement of music to a wide range of audiences.

Formed in 2018 as fellows of Carnegie Hall's Ensemble Connect, ConnectFive is a wind quintet embodying the spirit of collaboration and dedicated to bridging gaps through captivating performances, creative programming, and community engagement.
ConnectFive is committed to broadening the repertoire for wind quintet. Our ensemble both champions underrepresented voices in classical music as well as adapts works originally written for other instrumentations. As passionate advocates for today's music, we expand the horizon of woodwind quintet literature by commissioning new works from a diverse pool of composers. Recent collaborations include commissions by Moira Lo Bianco and Amelia Brey, as well as coachings with composers Tania León and Julia Wolfe on their own pieces.
As a chamber ensemble made up of teaching artists, we consider community engagement central to our mission. Leveraging our strengths and experience as arts educators (including partnerships with New York City public schools throughout the Ensemble Connect fellowship), we create and perform interactive shows across the city and around the world tailored for specific communities ranging from elementary schools to senior centers. During the COVID-19 pandemic, we produced virtual educational content for Quogue Chamber Music on Long Island
Artists
Leo Sussman
Tamara Winston
Yasmina Spiegelberg
Yen Chen Wu
Wilden Dannenberg
Program
"Summer Sights and Sounds"
Pastorale
Amy Beach (1867- 1942)

De Memorias
Tania León (b. 1943)

Quintet in C Major
August Klughardt (1847-1902)

II. Allegro vivace
III. Andante grazioso – Coda
IV. Adagio – Allegro molto vivace

Red Clay and Mississippi Delta
Valerie Coleman (b. 1970)
Preview
Performances
Musicivic Everywhere
Sun 3:00 PM ET May 23, 2021 (3VCP)
Fri 7:30 PM ET June 11, 2021 (Oakmont)
Free Tickets
Three Village Chamber Players
Sun 3:00 PM ET May 23, 2021
Fri 7:30 PM ET May 28, 2021
Free Tickets
Twin Forks Musicivic
Sun 3:00 PM ET May 30, 2021
Fri 7:30 PM ET June 4, 2021
Free Tickets
Oakmont Musicivic
Sun 3:00 PM ET June 6, 2021
Fri 7:30 PM ET June 11, 2021
Free Tickets
Ambler Musicivic
Sun 3:00 PM ET June 13, 2021
Fri 7:30 PM ET June 18, 2021
Free Tickets
Big Sky Musicivic
Sun 3:00 PM MT June 20, 2021
Fri 7:30 PM MT July 2, 2021
Free Tickets
Bio
Flutist Leo Sussman grew up playing chamber music in living rooms and gigging with a salsa band in his hometown of San Francisco. Recently Leo has found satisfaction in creating esoteric music videos, giving up on origami tutorials, and feeling smug about his ongoing refusal to cultivate a sourdough starter.

Highlights from The Before Time include performances at the Philharmonie de Paris, Tippet Rise Art Center, the Banff Centre, and Black Rock City, as well as new music concerts at the Park Avenue Armory, National Sawdust, and Electronic Music Midwest. Leo has held fellowships at the
Atlantic, Bowdoin and Norfolk chamber music festivals.Currently pursuing the Doctor of Musical Arts degree at Manhattan School of Music, Leo earned a master's degree at Yale and bachelor's degrees in music and physics from Lawrence University. His principal teachers are Linda Chesis, Ransom Wilson, Erin Lesser.



---
Paraguayan/American oboist Tamara Winston is a highly sought after chamber and orchestral musician based in New York City. She performs regularly with the New York City Ballet, the Metropolitan Opera Orchestra, the Baltimore Symphony Orchestra, the St. Louis Symphony Orchestra, and the Montclair Orchestra.
As a teaching artist, Tamara is passionate about sharing music with a wide range of audiences and promoting inclusivity in arts education. As part of her Ensemble Connect fellowship through Carnegie Hall, Tamara created and performed numerous interactive performances for communities throughout New York City and abroad. She is on faculty at Brooklyn College Conservatory of Music and was recently appointed Associate Director of MusicAlly, an online platform that provides the highest quality music lessons to students from backgrounds underrepresented in classical music.
She has spent the last three summers at The Aspen Music Festival, and was honored to be named the English Horn Fellow for the 2018-2021 seasons. During previous summers she attended the Spoleto Festival USA, National Symphony Orchestra Summer Institute, Brevard Music Center, and the Eastern Music Festival.
Tamara holds a bachelor's degree from The Juilliard School and a master's degree from Mannes School of Music. She has studied with Nathan Hughes and Elaine Douvas. Other primary teachers include Richard Dallessio, Jelena Dirks, and Linda Strommen.
---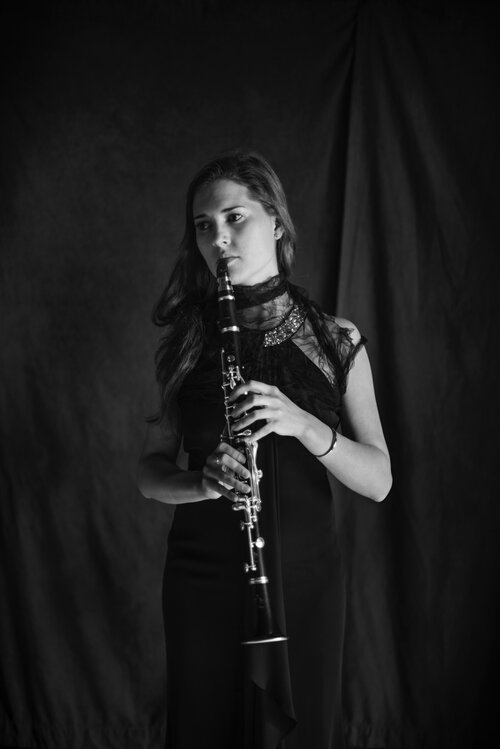 Born in Switzerland, Yasmina Spiegelberg has gained international recognition as a sought-after clarinetist and is a current Ensemble Connect Fellow of Carnegie Hall and The Juilliard School. Yasmina is the laureate of several acclaimed international competitions and is guest soloist with internationally renowned orchestras including the Norwegian Chamber Orchestra, the Nomad Symphony Orchestra (France) and the String Ensemble Rapsodia (Switzerland). Her chamber music collaborations include Hila Plitmann, Peter Frankl, Mark Steinberg and Roger Tapping. An advocate of new music, she collaborates with composers Steve Reich, Kalevi Aho and Liza Lim. Yasmina appears at prestigious festivals such as Yellowbarn and is broadcasted live as a soloist on KUSC (CA) and KING-FM (WA). She has recorded an album featuring concertos and other works for clarinet and orchestra. She holds degrees from the Conservatorium of Amsterdam, the Music Academy of Oslo and an Artist Diploma from the University of Southern California with Yehuda Gilad.
---
Hailing from Tainan, Taiwan, Yen-Chen Wu became the first bassoonist to win the Serge and Olga Koussevitzky Young Artist Award for woodwinds and brass instruments since 1983. Yen-Chen has participated in major music festivals, such as, Yellow Barn, Lake George Music Festival, Norfolk Chamber Music Festival, Bowdoin Music Festival, and Banff Music Festival. Her concert activities have taken her to France, Japan, Thailand, Germany, Canada and the U.S.
Aa an alum of Carnegie Hall's Ensemble,Yen-Chen enjoys playing chamber music with her friends, sharing music with communities, and working closely with composers from all parts of the world.
Yen-Chen earned her master's degree at the Yale School of Music, where she studied with Frank Morelli, and she is now pursuing a doctorate at Stony Brook University.
---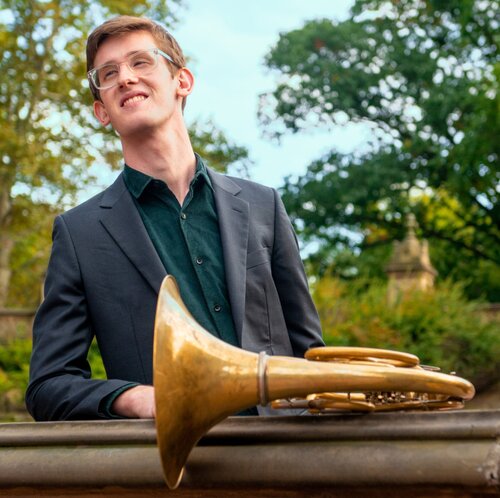 Hornist Wilden Dannenberg is a multifaceted performer committed to engaging listeners in a range of musical styles and experiences. With a firm foundation in the repertoire of early to contemporary works, Wilden has been featured as a soloist in such pieces as Mozart's Third Horn Concerto, Bach's B Minor Mass, and Schumann's Konzertstücke for Four Horns and Orchestra. He is on the faculty at Adelphi University and is a recent alum of Carnegie Hall's Ensemble Connect.
He enjoys exploring versatile and sometimes adventurous roles of the horn, performing and recording with ensembles that specialize in bridging American roots and Western classical traditions, as well as improvisation and graphic, animated, and non-traditional notations. He is committed to expanding the solo and chamber repertoire for horn, collaborating frequently with composers to perform new and recent pieces.
Furthermore, Wilden is a fervid advocate of multidisciplinary music study and performance, believing strongly in experiences that connect with listeners in personal ways.
Beyond horn pursuits, Wilden enjoys performing as an organist and jazz pianist.. A native of Perry, Georgia, he received a Bachelor of Music from Florida State University and a Master of Music from Stony Brook University. His teachers include David Jolley, Richard Deane, and Michelle Stebleton.
MC21-0016